Skirental INTERSPORT Flory Filzmoos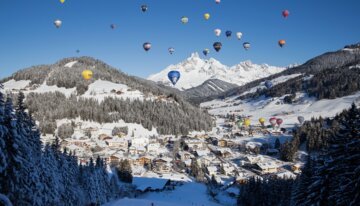 ©
Fotograf: Coen Weesjes Copyright: Tourismusinformation Filzmoos/Coen Weesjes
Opening times Winter
Dec 8, 2023 - Apr 20, 2024
Monday - Friday
8:30 AM - 12:00 PM and 1:30 PM - 6:00 PM
Saturday
8:30 AM - 6:00 PM
Sunday
8:30 AM - 12:00 PM and 1:30 PM - 6:00 PM
Particularity
Rental equipment made to measure: INTERSPORT Flory center
about us
Rent your ski and snowboard at INTERSPORT Flory in Filzmoos
Winter athletes can draw from a diverse range of fashion, accessories and sporting equipment atINTERSPORT Flory center. Not only skiers, snowboarders and cross-country skiers will find what they´re looking for on a sales area of 600 square meters - the INTERSPORT Rent branch in Filzmoos has more interesting extras in storage: The rental offers, next to skis and snowboards, also toboggans, snow blades and snow shoes.
INTERSPORT Flory center offers rental equipment for all requirements: The Economy Class offers affordable, yet best-maintained rental models, the Premium Class provides the top models of the season for perfect skiing. Would you like to experience first-class driving pleasure like a professional? Then the Superior Class has all the latest innovations and high-tech skis in readiness for you.

If you rent your ski equipment at INTERSPORT Flory center you're always a winner: Are you satisfied with your rented skis? Then you can buy them at any time. The rental fee is substracted from the purchase price. Would you like to exchange your rental equipment? No problem: The INTERSPORT Rent staff will assist you when choosing a different model - as often as you want.

Be convinced by the excellent services at INTERSPORT Flory center. The team at INTERSPORT Rent Filzmoos is looking forward to your visit.