If you need a change from skiing or snowboarding, you can also enjoy the white winter landscape while snowshoeing. And the good thing about it: snowshoe hiking is suitable for both children and adults.
So: pick up your snowshoes from our rental shop, strap them to your feet and off you go!
People who enjoy hiking in snowshoes are often nature lovers, since this is a kind of slow motion winter sport. Step by step, you overcome the mountain while training your stamina and leg muscles very effectively. You can enjoy the triumph of reaching your goal even more if you're in a group.
Tips for your next snowshoe hike
We have collected the most important information and tips for a successful snowshoe hike: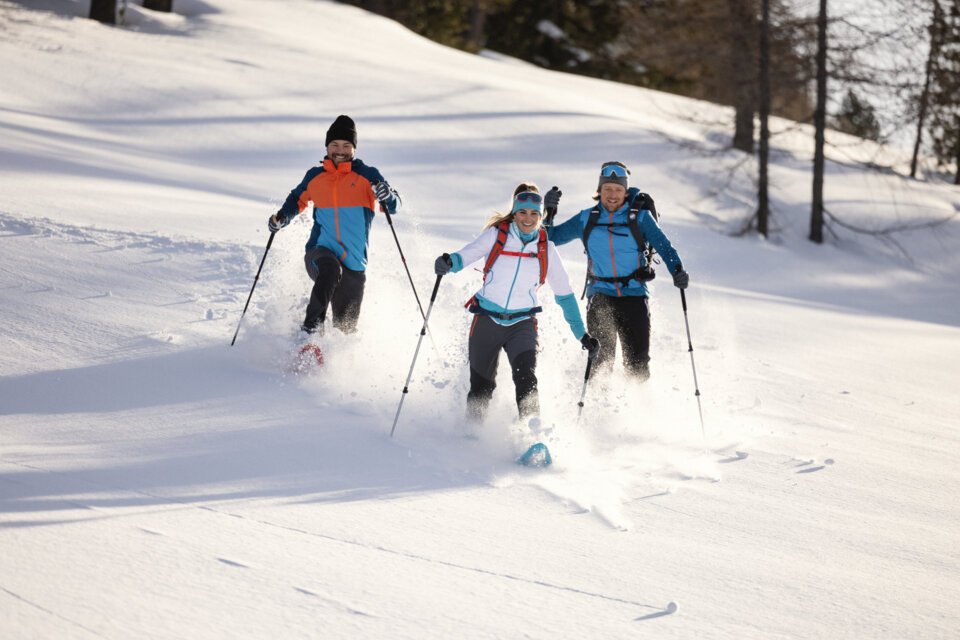 What do you need to consider when choosing snowshoes?
The most important thing for your tour are snowshoes. But why? Because of the large surface of snowshoes, the your bodyweight is better distributed and thus prevents you from sinking into the snow.
Which models are available?
There are different models, depending on the purpose of use and the terrain. The most common models are plastic and aluminium snowshoes. Aluminium snowshoes have an aluminium frame and are covered with a stable plastic material. They are suitable for easy terrain and deep snow. Plastic snowshoes are made of cold-resistant hard plastic and are used for tours in steep and alpine terrain. For alpine use, it is advisable to use plastic snow shoes which also have claws and a climbing aid. The claws ensure that you have a good grip even in hard snow and harsh. The climbing aid is a stirrup in the heel area that can be folded upwards. The climbing aid relieves your calf muscles and makes walking up easier.
What should I consider in terms of binding?
The binding of snowshoes should not constrict the ankles. They should therefore be flexible and soft, but still provide sufficient support. There are also different types of snowshoe bindings. Bindings with a strap are suitable for soft shoes. They ensure that your foot is well fixed but not too tightly constricted. With a ratchet binding it is easier and quicker to put snowshoes on than with a strap binding. However, it is only suitable for tight mountain boots.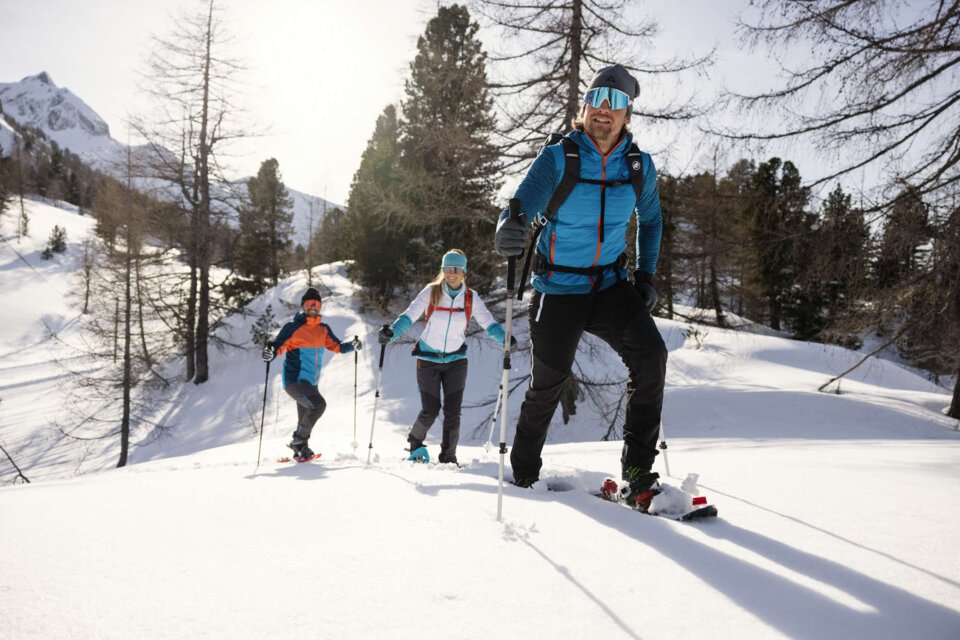 How do I find the right snowshoes?
Snowshoes are available in different sizes. However, it is not your classic shoe size that is important for the right size, because snowshoes can be adjusted to any shoe size. Much more important is your total weight and height. The total weight includes your body weight, but also the weight of your equipment (for example rucksack). The intended use and terrain also influence the choice of snowshoes. For example, if the terrain is difficult or alpine, smaller snowshoes are an advantage. If the snow is very powdery, larger snowshoes are better. Tell our Rentertainers about your planned tour so they can find the right snowshoes for you.
Rent the right snowshoes for you, your friends and family and let the adventure begin!

What are the snowshoe gear essentials?
In addition to snowshoes, there is also other equipment that is essential for a successful snowshoe hike.
For snowshoeing, waterproof hiking boots are best suited. Ideally they should go up to the ankles. You can also use gaiters, which prevent snow from getting into your hiking boots. Your clothes should be waterproof, but still breathable, because uphill you might start sweating. Sticks with large plates will help you to move forward better. Don't forget to pack sunglasses, suncream and provisions in your rucksack. If you are planning a tour in higher mountains with avalanche danger, you should also have avalanche equipment (avalanche transceiver, probe, shovel) with you.
What do I have to consider before a tour?
The good thing is: snowshoeing is easy to learn and requires no previous experience. Nevertheless, it is a good idea to take a tour with a mountain guide. The guide can find the best route depending on the degree of difficulty required. Furthermore, guides know the area very well and can take you to the most beautiful places and viewpoints. Before starting a hike you should always inform yourself about the current avalanche situation.
Snowshoes or rather touring skis?
Enjoy deep snowy forests and lonely peaks? This is possible both with touring skis and snowshoes. Especially nature lovers who cannot ski or can only ski poorly appreciate snowshoes. During the ascent it makes hardly any difference whether you use snowshoes or touring skis. Therefore it is no problem to hike to the summit in mixed groups. Downhill the touring skiers are of course much faster, but even with snowshoes the descent in powder snow is great fun.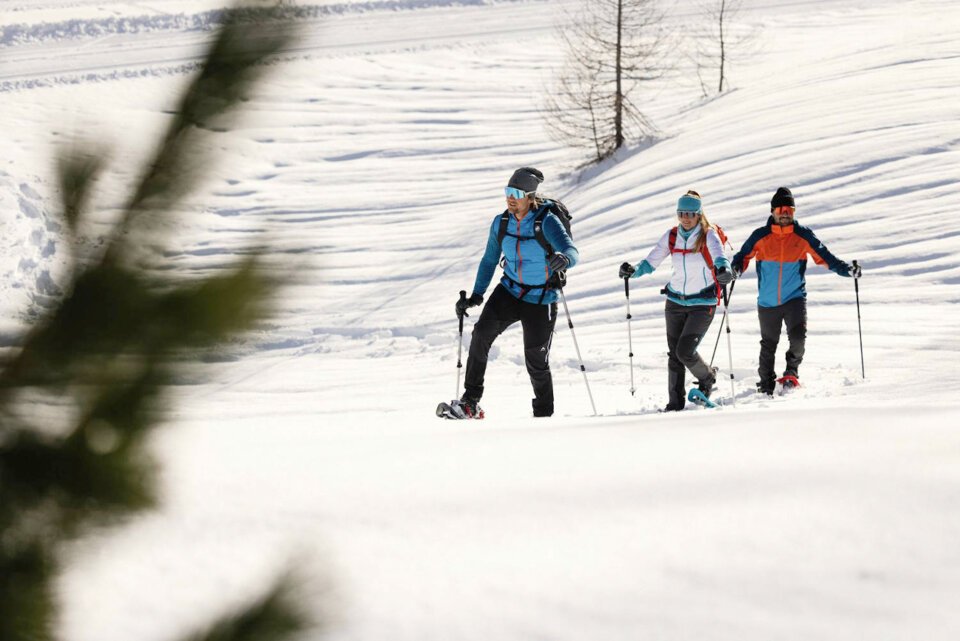 So that your favourite sports equipment is also available when you arrive, reserve your snowshoes online now