RENTertainment service and advice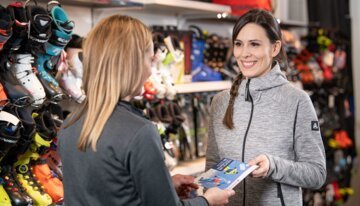 No mountain is too high for us!
You can expect to fully enjoy your day on the mountain. We are at your disposal. You will only get advice from highly trained employees.
In INTERSPORT Rent shops, you will meet sports enthusiasts who will take care of your wishes in a very motivated manner. They are always perfectly informed about the latest trends and products and are familiar with all types of winter sports. We promise: for every question you ask us, you will get a competent answer, a solution and always the best service.
We enjoy being challenged and consider that an opportunity to grow every day. The only purpose of product and service courses as well as trainings is to make you feel well advised when you visit us, and to make you reach the slopes faster. To fulfil that goal, we are happy to go the extra mile for you.
Competent salesmanship
Great rental
Sharp as a tuned edge servicing
By the way: Every INTERSPORT Rent shop has free Wi-Fi. So that you can be online at all times.