INTERSPORT Kitzsport at Hotel Arosa: your ski rental in Kitzbühel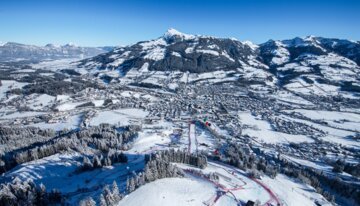 ©
Copyright: Foto: Michael Werlberger | Kitzbühel Tourismus
Opening times Winter
Dec 1, 2023 - Apr 9, 2024
Monday - Friday
8:30 AM - 12:00 PM and 2:00 PM - 6:00 PM
Saturday, Sunday
8:30 AM - 12:00 PM and 2:00 PM - 6:00 PM
Particularity
INTERSPORT Rent in Kitzbühel: Sale, rental and service
about us
Sale and rental of sports equipment: INTERSPORT Rent in Kitzbühel
An extraordinary eye-opener - that's what the ski rental of INTERSPORT Kitzsport in Arosa wants to offer to its customers. Active customer service by trained staff is one of the secrets of success of INTERSPORT Rent in Kitzbühel.
Sale, rental and ski service can be found consolidated in the ski rental of INTERSPORT Kitzsport at Hotel Arosa in Kitzbühel. The modern shop at the Grand Spa Resort Arosa is the first contact point for winter sports enthusiasts to be fashionably and technically prepared for the slopes.

The generous selection of modern ski equipment for sale or rent makes it easy for ski enthusiasts to find the perfect model. Fashion enthusiasts can keep an eye out for stylish ski outfits in the Bogner shop, a part of the ski rental in Kitzbuhel.

If you want to keep the survey of the large selection of sports equipment, fashion accessories and chic ski wear, apply to the most competent team of INTERSPORT Rent. Personalized and friendly service is guaranteed at INTERSPORT Rent partners!