Ski rental INTERSPORT Arlberg at Schlosskopfbahn in Lech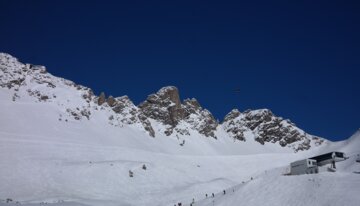 Opening times Winter
Dec 1, 2023 - Apr 14, 2024
Monday - Friday
8:30 AM - 6:00 PM
Saturday, Sunday
8:30 AM - 6:00 PM
Particularity
INTERSPORT know-how and expertise: directly at the Schlosskopf gondola: shopping megastore / rent & service. With customer parking
about us
Rent your ski and snowboard at INTERSPORT Arlberg at Schlosskopfbahn
After two years of INTERSPORT Arlberg at the Schlosskopfbahn, there is now reinforcement in the Intersport Network am Arlberg: The INTERSPORT Arlberg "Sporthaus Lech" – Haus Pfefferkorn and the rental location "Rüfikopfbahn" directly at Rüfiplatz!
More INTERSPORT in Lech means anything but "more of the same". The offer in the three shops is deliberately oriented towards different buyer interests. Those who love young brands will find what they are looking for at the INTERSPORT Arlberg Schlosskopfbahn. In the shop next to the Schlosskopfbahn in Lech, an extensive product range, top service and advice are offered! Of course, a big ski rental is available with a great assortment!
If you wish, we deliver your rental equipment directly and contactless to your accommodation around the Arlberg. You don't pay extra for this service, only the pre-booking discount does not apply. Simply book your rental equipment online as usual and select the #DeliveryService products.