Ski rental INTERSPORT Breitfuß Middle Station Panoramabahn, Mittersill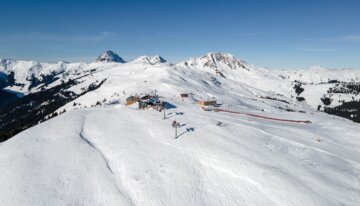 ©
Mittelsill Plus GmbH / Daniel Kogler
Opening times Winter
Dec 22, 2023 - Apr 1, 2024
Monday - Friday
8:30 AM - 5:00 PM
Saturday, Sunday
8:30 AM - 5:00 PM
Particularity
Top services at INTERSPORT Breitfuss, central station panorama mountain railway
about us
Rent your ski and snowboard at INTERSPORT Breitfuß Middle Station Panoramabahn
The central station of the panorma mountain railway of Mittersill / Breitmoss is the ideal starting point in order to enjoy the magnificent views and discover the perfectly groomed slopes of the Kitzbühel Alps. Also the necessary equipment is cared for: You have the choice - skis and snowboards for rent and the latest models for sale at INTERSPORT Breitfuss central station panorama mountain railway.
Your winter holiday begins with choosing the material: The INTERSPORT Rent employees in Mittersill / Breitmoos take your individual needs into account. In addition, the ski rental at the central station panorama mountain railway offers numerous exclusive services for winter athletes that make your winter holiday even more beautiful.

Not just service, but also best safety is a priority at INTERSPORT Breitfuss. Rely on professional advice by the INTERSPORT Rent team and look forward to an unforgettable skiing adventure in the Kitzbühel Alps.