Ski rental in Präbichl/Vordernberg
Rent your skis or snowboard at INTERSPORT Rent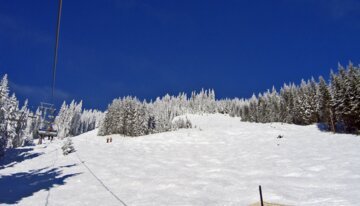 Skiing fun for big and small: winter sports enthusiasts at every level of ability get their money's worth in Präbichl/Vordernberg. Whether riding the flat beginners slope or tearing down the carving runs – the ski rental department at INTERSPORT Rent in Präbichl/Vordernberg provides you with the right equipment for a fair price.
From the little snow bunnies, who bravely attempt their first turns, to the deep powder expert, who leaves tracks through the untouched off-piste snow – in Präbichl, everyone can experience their own personal winter adventure as well as a large amount of off-piste opportunities for fun, such as winter hiking trails, spa services and equipment rentals. Total snow coverage is guaranteed in Präbichl/Vordernberg. Even if old man winter is having an off day, modern snow machines ensure for 100 percent groomed slopes.
Base station Quattro chair lifts
INTERSPORT Tscherne
Weidauweg 18, 8794 Praebichl/Vordernberg
Top service at the ski rental branch ski depot in Präbichl
Stretch out your tired limbs and soak up the sun – just one more great experience to be had in Präbichl. With the proper weather conditions, sun-worshipers can make themselves comfortable in the free lounge chairs at the "Berg Solarium". Simply drop off your ski equipment beforehand at the INTERSPORT Rent ski depot. Your skis will be stored safely over night and your boots dried via modern drying technology – an unbeatable service!
Stop on by the ski rental branch of INTERSPORT Tscherne at the 4-seat chair lift station in the valley of Prächibl/Vordernberg. Expertly trained staff members are at your service, ready to answer your questions regarding ski-servicing, purchase and ski rentals.
INTERSPORT Rent shops in the federal states
INTERSPORT Rent shops in the regions