Skirental INTERSPORT Bachler Ramsau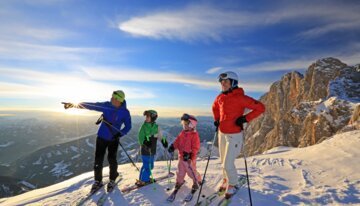 ©
Steiermark Tourismus / Tom Lamm
Opening times Winter
Dec 1, 2023 - Mar 31, 2024
Monday - Friday
8:30 AM - 6:00 PM
Saturday
8:30 AM - 6:00 PM
Particularity
Top brands and best advice: Ski rental INTERSPORT Bachler, center Ramsau
Cross-country ski equipment for sale or rent: INTERSPORT Rent in Ramsau
about us
Rent your ski and snowboard at INTERSPORT Bachler in Ramsau
Before you start into winter sports in the region of Tauern-Dachstein, consider a visit in the INTERSPORT RENT branch in Ramsau: Here you will not only find ski equipment, sportswear and accessories by exclusive top brands, but also best advice. Friendliness, competence and experience - a mix that characterizes the INTERSPORT Rent employees.
The ski rental of INTERSPORT Bachler, Ramsau, is located in the center of a cross-country Mecca: The Dachstein-Tauern region has a 150 kilometer network of sports and recreational trails. 18 km of perfectly groomed cross-country ski trails are also waiting on the Dachstein glacier. Ramsau am Dachstein was the venue for the Nordic World Mastership and various Nordic Cups.

Want to learn more about cross-country sports? The INTERSPORT Rent team in the ski rental of INTERSPORT Bachler not only provides you with insider tips on best trails around Ramsau, but also likes to advise you when choosing the proper cross-country equipment.