Ski rental INTERSPORT Arlberg at Galzigbahn in St. Anton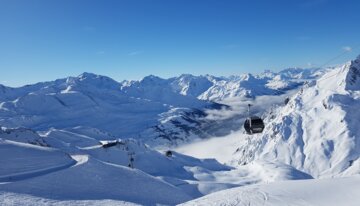 Opening times Winter
Dec 1, 2023 - Apr 14, 2024
Monday - Thursday
8:30 AM - 6:00 PM
Saturday
8:30 AM - 7:00 PM
Particularity
Rent and keep safe ski equipment: INTERSPORT Rent in St.Anton at the Arlberg
about us
Rent your ski and snowboard at INTERSPORT Arlberg at Galzigbahn
The ski rental of INTERSPORT Arlberg Galzigbahn, hides a small paradise for winter sports fans: The INTERSPORT Rent branch in St. Anton at the Arlberg represents more than just a rental. The store offers a wide range of sports accessories and a large depot and hiring area.
The spacious ambience at the ski rental of INTERSPORT Arlberg Galzigbahn, provides a pleasant start to the day of skiing: Browse through a large range of rental skis unhurriedly and find a suitable equipment. The INTERSPORT Rent team is at your service with advice, tips and tricks you need.
Then you can leave for the nearby Galzigbahn, directly on the slopes, without detours. Even after a day of skiing you will benefit from the services of your ski rental in St. Anton at the Arlberg: The spacious and modern depot keeps your entire ski equipment safe until the following day.
If you wish, we deliver your rental equipment directly and contactless to your accommodation around the Arlberg. You don't pay extra for this service, only the pre-booking discount does not apply. Simply book your rental equipment online as usual and select the #DeliveryService products. Or book #DepotPickup: pick up ready-to-go at your personal INTERSPORT depot!