Affordable ski rental and top advice
INTERSPORT Rent in Tschagguns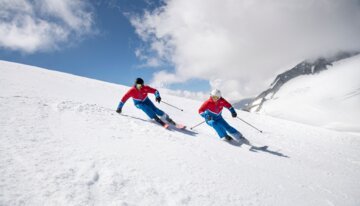 The Montafon turns into a paradise for active people during winter. Skiers, snowboarders, climbers, cross-country skiers, ice climbers and many more indulge their hobbies and enjoy the versatile winter paradise in the beautiful alpine valley. The first stop for ski rental is INTERSPORT Rent in Tschagguns. Our professional staff can assist you in choosing the proper equipment.
Tschagguns in the Montafon is a perfect holiday destination for those who are looking for unlimited winter fun. 63 mountain railways and lifts, approximately 220 kilometers of ski runs, ski touring on the glaciers of the Silvretta, 100 kilometers of cross-country ski trails and 290 kilometers of winter hiking trails in await guests in the alpine valley. Enjoy spontaneously whatever you want - the proper equipment you can borrow just on-site at the ski rental of INTERSPOR Rent in Tschagguns.
An Eldorado for cross-country skiers
Numerous skating routes and wonderful trails for classic style lure cross-country skiers from near and far to the Montafon. The altitude makes them snow-sure and accessible until spring.

You want to spend an exciting holiday with skiing, cross-country skiing, mountaineering and snowboarding in the beautiful Tschagguns and not pack five different pieces of equipment? No problem - you can rent skis, snowboards and much more locally at INTERSPORT Rent.
INTERSPORT Rent shops in the federal states
INTERSPORT Rent shops in the regions
Cities with INTERSPORT Rent shops in the region