Skirental INTERSPORT Breitfuss Rent Hinterglemm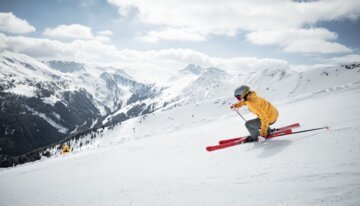 Opening times Winter
Dec 4, 2023 - Apr 1, 2024
Monday - Friday
8:30 AM - 6:00 PM
Saturday, Sunday
8:30 AM - 6:00 PM
Particularity
Your #1 ski rental in Hinterglemm.
Best service & first-class consultancy!
about us
Rent your ski and snowboard at INTERSPORT Breitfuss Rent in Hinterglemm
Popular labels, latest models and first-class selection in combination with our top service makes any skier's heart beat faster
It's worth renting your equipment and enjoy our unique Intersport Rent benefits:
Kids rent for free*
Youngstars ½ price
1 free day
Carefree-package
Free exchange within the same category
Free daily ski service
Test & Buy
Early pickup –the day before skiing after 3 pm
Ski boot fittings
Group rental on request
At Intersport Breitfuss Rent you can find the latest and highest quality fully automatic service machines from Wintersteiger for skis and snowboards.
We offer our guests a daily high-end ski service for their rental equipment.
Your safety is our top priority! Our brand new Wintersteiger Safetronic binding check machine guarantees the correct adjustment for every ski binding.
Our slogan "Best in Town" says everything you can expect from our rental store. We have the best location and first class quality in the coolest ski resort of the Alps. Let yourself be inspired by our outstanding quality and amazing team.
Jakob Breitfuss and his team hope you have an exciting time filled with stunning views, enjoyable moments and unforgettable days in the mountains.
By the way: The excellent equipment from Intersport Breitfuss Rent is always in high demand – a reservation in advance definitely pays off! So Book today, save a 13% discount and enjoy your incredible benefits in the best ski rental at your holiday destination.