Ski rental in Hinterthal
Rent ski equipment at INTERSPORT Rent in Hochkoenig's Winterreich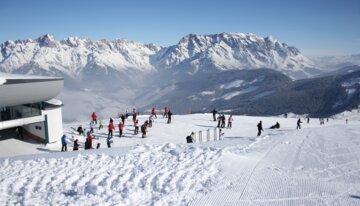 Numerous offers are available for skiers and snowboarders on all kinds of levels in Hinterthal, in the ski area Hochkoenig: varied slopes, modern lifts, splendidly constructed funparks and a lot of service points, such as the kids club and the ski rental of INTERSPORT Rent provide fun and action during your holiday in the province of Salzburg.
In Hinterthal you can enjoy winter enchantment at the foot of the impressive Hochkoenig which towers higher than 3.000 metres. Enter the ski area and discover magnificent slopes on all levels of diffculty. A special highlight is the so called "Kings tour": You can cover an altitude difference of 1.921 metres on 32 km of pistes, against the breathtaking backdrop of the Hochkoenig and the Stony Sea. An experience that inspires the Austrian ski star Marlies Schild again and again.
Webcams
A look into the ski resort
Hinterthal: special deals for children in the ski rental
Children are welcome in Hinterthal and the entire region of Hochkoenig. The smallest ones can exercise their first turns and experience an unforgettable supporting programme in the Schneewutzel Kids Club in the nearby Maria Alm . Fun and games are provided from ski show to final races with following award ceremony. INTERSPORT Rent caters for safety equipment: Kids up to 14 years receive a helmet for free in addition to their ski equipment!
INTERSPORT Rent shops in the federal states
INTERSPORT Rent shops in the regions
Cities with INTERSPORT Rent shops in the region