Your partner for renting skis at the Riederalp
Ski rental for a fair price at INTERSPORT Rent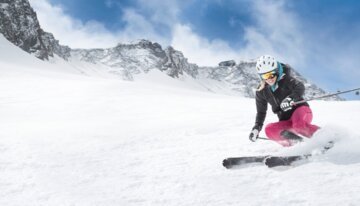 On the Riederalp not only good snow conditions and many ski-pistes will be waiting for you but also the sunny Grossen-Alteschgletscher which was declared as a part of the UNESCO World Heritage. Your first stop for renting winter sports gear on the Riederalp is INTERSPORT Rent where high quality materials and excellent expert advice are offered.
The Riederalp can best be described as cozy and comfortable. After the Bettmeralp and the Fiescheralp it is the third main point of the Aletsch Arena which is located at the Grossen-Aletsch glacier. Enjoy limitless fun in the ski resort of the amazing glacier which is part of the UNESCO World Heritgae.
INTERSPORT bürcherAlpin east (Moosfluh Gletscherbahn)
INTERSPORT bürcherAlpin
Aletschpromenade 112, 3987 Riederalp
Webcams
A look into the ski resort
Cross-country skiing in front of the mountain panorama of the Walliser Alps on the Riederalp
Would you like to enjoy the wonderful landscape of the Riederalp? Then put on your cross-country skis! On 4 kilometers of perfectly groomed cross-country ski-runs and one kilometer of skating-runs you can enjoy an amazing view of the panoramic Alps. A topnotch selection of cross-country skis can be rented at the INTERSPORT Rent on the Riederalp. Take advantage of our expert advice.
INTERSPORT Rent is your reliable partner for all questions concerning renting skis and ski services. Select rental equipment from a wide range of products and enjoy excellent expert advice from the motivated employees of our team.
INTERSPORT Rent shops in the regions
Cities with INTERSPORT Rent shops in the region