INTERSPORT Rent Arosa:Your specialist for renting skis
Ski rental and expert customer service at INTERSPORT Rent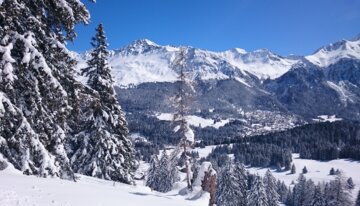 Arosa has a rich tradition and welcomes winter sports enthusiasts with a large variety of opportunities for skiers, snowboarders, freestylers, freeriders and cross-country skiers. Reliable snow conditions and lots of fun are guaranteed.
Over 70 kilometres of downhill pistes and 40 kilometres of freeride slopes await you in Arosa. The 13 modern transport systems and mountain railways ensure for comfort without annoying queues. There's something for everyone at the Arosa resort! Surrounded by 400 mountain peaks, you can easily forget the stress of your everyday routine at an altitude of 2,653 metres – experience unforgettable days on the slopes, while enjoying the traditional ski village in Graubünden.
Get the best rental equipment for cross-country in Arosa.
Cross-country skiers will find just what they're looking for in Arosa. On the Maran, the Prätschalop/Ochsenalp, the Obersee and the Isel mountains, you'll discover 30 kilometres of trails waiting to be explored. Are you a beginner or would you like to improve your technique? Then take a course at the local cross-country and snowshoeing centre. Whether in the classic or skating style – with the help of a professional instructor, you'll see immediate improvement.
You'll receive further information regarding ski rentals as well as excellent advice from the excellently trained staff members at the two INTERSPORT Rent branches in Arosa
INTERSPORT Rent shops in the regions
Cities with INTERSPORT Rent shops in the region