Axamer Lizum: ski rental
Hire skis and snowboards at INTERSPORT Rent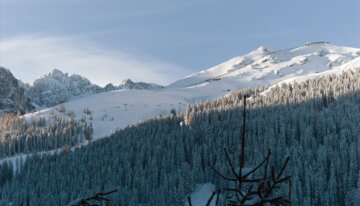 ©
(c) Foto: Christoph Schöch | Axamer Lizum
The Axamer Lizum ski resort, located near by the Tyrolean capital of Innsbruck, welcomes snowboarders, skiers, carvers and freestylers to experience non-stop enjoyment on the slopes. With the proper equipment from the iNTERSPORT Rent ski rental shop in Axams, you can soak in the flair of the Olympics on snow-sure downhill runs, while benefiting from true hospitality and comprehensive service.
Its altitudes from 1,540 to 2,340 make the 1964 and 1976 Olympic Winter Games venue a true winter sport El Dorado even today. Whether skier or snowboarder, beginner or expert – at the Axamer Lizum resort, one of the most attractive ski areas in Austria, you'll have a true winter adventure. What else do you need to feel like an Olympics gold medal- winner? Correct – the proper equipment.
From fun on the slopes to the city: do you want to experience Innsbruck's nightlife after an exciting ski day? No problem! The capital of Tyrol is only 18 kilometres away from Axams and a free ski shuttle make the trip even easier. Simply drop off your ski equipment at the INTERSPORT Olympia ski depot in Axams. There, your equipment is stored safely and your boots are dried over night – nothing is better than toasty warm boots at the start of a new ski day!
Do you still have questions about ski rentals at the Axamer Lizum? The team at INTERSPORT Olympia in Axam is your source for winter sports advice! The expertly trained team is looking forward to helping you!
INTERSPORT Rent shops in the federal states
INTERSPORT Rent shops in the regions
Cities with INTERSPORT Rent shops in the region