Skiing & ski rental in Serfaus-Fiss-Ladis
All INTERSPORT Rent locations at a glance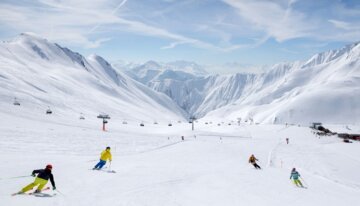 ©
Serfaus-Fiss-Ladis Marketing GmbH / Andreas Kirschner
With the collaboration of the three towns Serfaus, Ladis and Fiss, an extensive skiing region was created in Tyrol, which is equally suitable for beginners, experts and families. Snow reliability, modern facilities, the large assortment of gear at the INTERSPORT Rent ski rental shop and much more invite winter sports friends to spend their winter holidays in Serfaus-Fiss-Ladis.
The three Tyrolean ski resorts Serfaus, Fiss and Ladis make up an extensive skiing region, spanning heights from 1,200 to 2,820 metres. The variety of pistes on the alpine plateau excites winter sports fans of all ages and all levels of ability. Wide slopes and lots of room on the downhill run make for lots of fun and action – especially for carvers! So you don't own carving skis? Then rent your equipment from the INTERSPORT Rent ski rental shop in the Serfaus-Fiss-Ladis region!
More speed, more fun – anyone, who's looking to succumb to their speed-addiction will find the ultimate challenge in Serfaus-Fiss-Ladis: on the racecourses near the Schöngamp descent and the Peischlkopf descent, you can measure your times against six other skiers. So you haven't had enough? Then the new speed course near the 12-seater Valley Station is just the thing for you. Here, your high speeds are tracked and displayed on the big screen. So that you can safely cross the finish line, INTERSPORT Rent has a wide assortment of protective equipment in stock – at low prices!
Are you planning a ski holiday in Serfaus-Fiss-Ladis and need the proper ski equipment? Your first stop is one of the INTERSPORT Rent ski rental branches in Serfaus-Fiss-Ladis. The perfectly trained team is happy to help you!
INTERSPORT Rent shops in the federal states
INTERSPORT Rent shops in the regions
Cities with INTERSPORT Rent shops in the region