Your partner for ski hiring in Davos Dorf
Top equipment for all winter sports activities at INTERSPORT Rent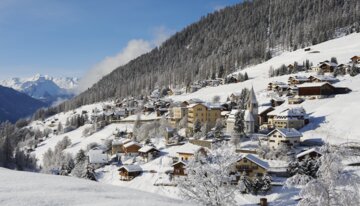 No wish remains unfulfilled in Davos Dorf: skiers snowboarders and freeriders get exactly what they're looking for at this ski resort located in the Graubünden region. You can conveniently rent all your ski equipment for less at INTERSPORT Rent in Davos Dorf – your ski rental experts.
At the Davos Dorf ski resort, located in the Graubünden region, winter sports enthusiasts will find exactly what their hearts desire: whether carver, snowboarder, freerider or recreational skier – the resort has something for everyone! The ski region Davos Klosters also appreciates the importance of convenience: lots of amenities, such as ski schools or ski rentals at INTERSPORT Rent, ensure that you can simply enjoy your days on the slopes, worry free.
Webcams
A look into the ski resort
Here, you'll be spoilt for choice: huge assortment of equipment at the ski rental shop
Pick out your favourites from the wide assortment of the newest winter sports equipment at INTERSPORT Rent. In the "PREMIUM/RED" segment at the ski rental shop, you'll find top-of-the-line ski and snowboard models, wheras the "ECONOMY/BLUE" segment provides you with a large selection of well-known ski and snowboard brands in top condition.
Would you like to hire your ski equipment in Davos Dorf? Then you are right on the mark with INTERSPORT Rent. The expert teams of the four ski rental branches are at your service!
INTERSPORT Rent shops in the regions
Cities with INTERSPORT Rent shops in the region