Ski rental in Ilanz: Your first stop for skis and ski service
Looking for a ski rental and additional service? INTERSPORT Rent is your reliable address in Ilanz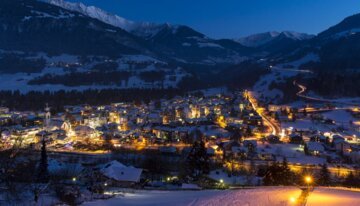 ©
© 2017 Surselva Tourismus
Are you looking for a variety of ski-pistes instead of skiing down the same ones repeatedly? Then Ilanz is the perfect place to be. The local ski-region of Obersaxen-Mundaun with its connecting routes to other ski-regions allows skiers of every skil level to have maximum fun. The ski rental of INTERSPORT Rent will provide you with the right equipment and the best service. Our trained employees will give you qualified advice.
On 120 km of ski-pistes expert skiers as well as beginners can enjoy themselves. One of the highlights are the sunny ski-pistes of Val Lumnezia. Under good snow conditions you will be able to ski from Obersaxen-Mundaun to Ilanz. It is perfect for every winter sports enthusiast. A bonus for everyone who wants even more ski-pistes than these near his hotel can travel in just 15 to the ski region of Weissen Arena where additional opportunities can be discovered. Also the ski-pistes in Vals are not far away.
Get well equipped by the local ski rental in Ilanz
Beyond the ski-pistes winter sports enthusiasts can also choose to go sledding, ice-skating or cross-country skiing. Near the soccer field starts the wonderful 3 km long cross-country run around Ilanz. In Obersaxen-Mundaun the cross-country skiers can follow their passion on over 40 km of ski runs.
Do not forget that wether on the ski-pistes or the cross-country ski runs; you find the perfect Equipment at the local INTERSPORT Rent in Ilanz. There we would like to offer you our best expert advice. Our experienced employees will not only provide perfect adjustments for your skis, they will also give you some tips on how to have your perfect winter holidays in Ilanz.
INTERSPORT Rent shops in the regions
Cities with INTERSPORT Rent shops in the region