Lauterbrunnen: Your first stop for ski rentals
The perfect combination of service and ski rental at INTERSPORT Rent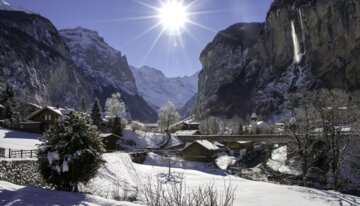 ©
Jungfrau Region Tourismus AG
Lauterbrunnen is the perfect place to ski: connected to different ski resorts, Lauterbrunnen is still relaxing enough off the pistes as well. Whatever you choose to do during your winter vacations – with the competent service at the INTERSPORT Rent ski rental shop, Lauterbrunnen will be a real snow paradise for both big and small ski bunnies.
Satisfy your desire for adventure in Lauterbrunnen: drive ice carts on the ice rink or go on snowshoeing expedition to the illuminates Staubbach Falls. You can relax in the numerous traditional restaurants and bars, where a cosy ambience and views onto the beautiful snowy landscape meet.
INTERSPORT Alpia Sport Lauterbrunnen
INTERSPORT Alpia Sport
Auf der Fuhren 452G, 3822 Lauterbrunnen
Webcams
A look into the ski resort
The right gear at the ski rental shop in Lauterbrunnen
Lauterbrunnen was already a popular destination for Goethe. Nowadays, a trip to Switzerland should include a visit to Lauterbrunnen. Skiers get everything they paid for: in the entire Jungfrau region a total of 213 kilometres of runs await skiers and snowboarders hungry for adventure. Ski schools kindle a love for skiing in beginners. In order to get started on the right foot, visit the ski rental in Lauterbrunnen!
Do you still need the right gear for your vacation in Lauterbrunnen? Or do you want to find out more about the town and its many recreational activities? Then head off to the ski rental in Lauterbrunnen: Here, a competent team that will share all the tips and tricks that you need awaits you!
INTERSPORT Rent shops in the regions
Cities with INTERSPORT Rent shops in the region