Piesendorf: low prices in the ski rental
Your INTERSPORT Rent partner in Zell am See and Kaprun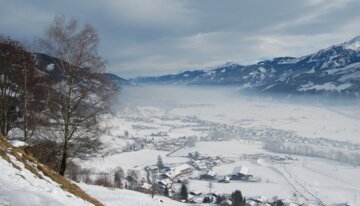 Piesendorf in the Pinzgau is the ideal starting point for a varied winter vacation. Its proximity to the large ski regions on the family-friendly Schmittenhöhe and the Kitzsteinhorn is just one advantage of this charming holiday spot. The unique adventure-mountain Nagelköpfl guarantees fun and action. Travel with light luggage and rent ski or snowboard for your vacation period in Piesendorf at the INTERSPORT Rent shops in Zell am See or Kaprun.
Just a hop away from the large ski areas Schmittenhöhe - Zell am See and Kaprun - Kitzsteinhorn lies the picturesque village Piesendorf. Free shuttles transport you to the best-prepared ski runs or the valley station of the glacier railway. However, tourists will not get bored off the piste: Whether exciting tours to the adventure-mountain, cross-country skiing or snow shoe hiking - the leisure time activities are as varied as the offers in the ski rental of INTERSPORT Rent.
Cross-country ski trails in Piesendorf
Piesendorf does not only come up with adventure and funsport, but also provides 20 kilometres of cross-country slopes: ten for classical and ten for skating style. Find rest and enjoy the view on the wavy and perfectly groomed routes. Ask for proper equipment at INTERSPORT Rent. You will obtain great advice in the ski rental.
Looking for the adequate winter sports equipment for your ski vacation? Then visit the ski rental shop of INTERSPORT Rent in the nearby Zell am See or Kaprun right the moment you arrive in Piesendorf. Excellent advice by winter sports experts awaits you next to a huge choice of cutting edge ski and snowboard models.
INTERSPORT Rent shops in the federal states
INTERSPORT Rent shops in the regions
Cities with INTERSPORT Rent shops in the region