Fair prices at the ski rental in Tröpolach
INTERSPORT Rent is the first contact point for winter sports enthusiasts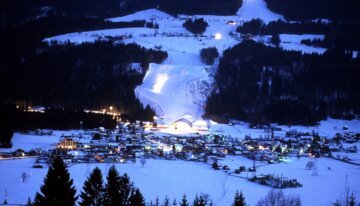 Whether you go for skiing, snowboarding, cross-country skiing or ski touring - Tröpolach Nassfeld holds the perfect offer for any winter sports fan in readiness. You can rent the latest ski and snowboard models of the season easily on-site at the ski rental in Tröpolach and save luggage and nerve when packing your car.
Anyboby who spends his holiday in Nassfeld, one of the top 10 ski resorts in Austria, swill be enthusiastic about this place. Snow and sun are just as guaranteed as magnificent ski slopes, cool snow parks and beautiful and perfectly groomed cross-country ski trails. Look forward to exciting days in Carinthia and rent the proper equipment for your activities in Tröpolach on-site in ski rental of INTERSPORT Rent.
Fun and action in the snowpark Nassfeld
Anyone who wants to experience the ultimate thrill is in good hands in the Snowpark Gartnerkofel. Professionals on board are pleased with the new kicker line with four kickers, the obstacles or the six-meter curved box. Still looking for the perfect board? Then visit us at the ski rental of INTERSPORT Rent in Tröpolach and choose your favorite model from a huge selection of boards in all classes.

The winter sports experts at INTERSPORT Rent in Tröpolach look forward to your visit. EComprehensive services, expert advice and lots of winter sports equipment at fair prices await you.
INTERSPORT Rent shops in the federal states
INTERSPORT Rent shops in the regions
Cities with INTERSPORT Rent shops in the region