Rucksack: The ideal companion on your tour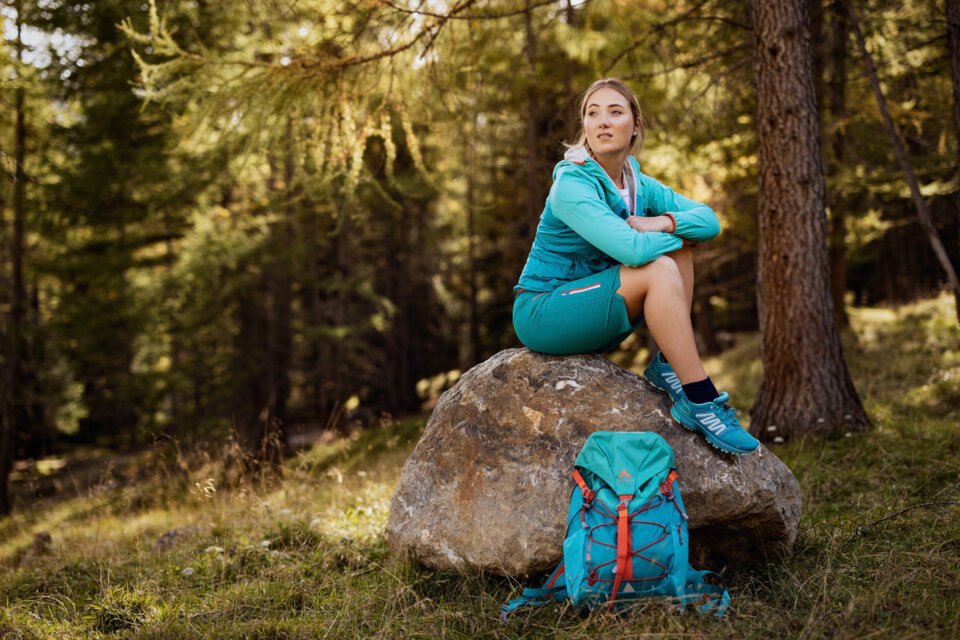 A hiking backpack helps you to have everything you need on your way to the summit and back. Drinking bottle, rain cover, hiking jacket etc. – you should be able to store all this in your backpack. In addition to sufficient storage space, a high level of comfort is also important. A good carrying system ensures this. With a correctly adjusted carrying system, you not only save strength, but also protect your back. So you are guaranteed to arrive at your destination with a smile!
What should your "porter" look like? Should it be light or close-fitting?
Full-contact rucksacks keep the weight of the sack close to the body of the walker. This makes it easier to control the weight and the backpack, which is an advantage when climbing, for example. A mesh backrest system on the other hand allows for better ventilation against your back, making the rucksack more comfortable to carry. The type of tour determines which version is best. Our RENTertainers are happy to help you find a suitable rucksack. Ask for our advice.
Packing your backpack properly
It is also important that you have your equipment well stowed in your backpack. A well-organized interior makes it easier to carry and you can concentrate fully on your hike! We have summarised the most important tips & tricks for packing your backpack
Light and voluminous items such as a sleeping bag or down jacket are placed in the bottom compartment.
Heavy items such as a tent, camera, provisions, water bottle should be stowed in the main compartment at shoulder height and near the back. The closer heavy objects are to your back, the easier it is to carry the backpack.
You can fill the rest of the main compartment with moderately heavy items such as clothes or first aid kit.
Small items and everything that should always be within easy reach are stored in the flap pocket. These include, for example, keys, mobile phone, sunglasses, sunscreen or hiking map.
Our INTERSPORT RENTertainers will also be happy to show you how to distribute the weight best in stores. Let us advise you!
Book your rucksack online now!