Your partner for ski rental in Andermatt
Rent skis and snowboards at INTERSPORT Rent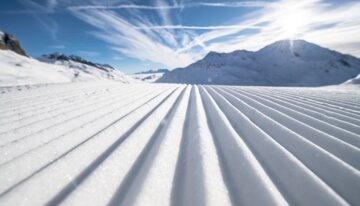 ©
Andermatt Sedrun Disentis Marketing AG | Valentin Luthiger
Skiers, snowboarders, carvers and touring ski fans will find a huge and diverse ski area in Andermatt in Central Switzerland. The best snow conditions, modern transportation facilities and numerous services such as the INTERSPORT Rent ski rental shop ensure the comfort of our guests.
Located in the middle of Central-Switzerland Andermatt can be reached fast and easy from all directions. Right here in the Gotthard Oberalp arena skiing enthusiasts will find a winter sports paradies. Alpine skiers, carving skiers and snowboarders will enjoy the rich varieties of ski regions around Andermatt-Gemsstock, Sedrun-Oberalp, Nätschen-Gütsch and Realp.
INTERSPORT Alpina Sport Andermatt
INTERSPORT Alpina Sport
Gotthardstrasse 101, 6490 Andermatt
Freeride and freestyle in Andermatt
Freeriders and Freestyler will get a lot of fun and action in Gemsstock. Here you can ski in partially unmarked ungroomed slopes. A variety of jumps and drops, advanced ski-runs as well as the Funpark g-park at the Gurschenalp will add some variety. For your own safety you will need the right gear. In Rent`s INTERSPORT ski rental in Andermatt youl will find all kinds of safety equipment from helmets to avalanche victim positioning devices.
Do you want to rent your skiing gear in Andermatt for your winter vacation for favorable terms? In our INTERSPORT rental station in Andermatt you will find a great variety of premium equipment along with excellent customer service.
INTERSPORT Rent shops in the regions
Cities with INTERSPORT Rent shops in the region