Your ski rental in Bad Gastein
Rent skis and snowboards with INTERSPORT Rent in Bad Gastein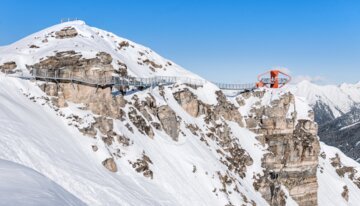 Fun on the slopes for the whole family: At Bad Gastein, within the region Schlossalm – Angertal – Stubnerkogel winter sports fans can find fun and variety in the largest coherent ski region of the Gastein valley. The right equipment for a blithe skiing holiday and excellent advice is provided by the team of experts at INTERSPORT Rent in Bad Gastein.
Full speed or skiing for pleasure: Experience both at Bad Gastein! At INTERSPORT Fleiß in Bad Gastein you'll get the fitting gear for all your activities on the slope. The ski rental offers you up to date downhill skis as well as allround carving skis, that allow you to ski smoothly down the slope in the winter sun. The competent team of INTERSPORT Fleiß will help you to find the right ski for you!
Webcams
A look into the ski resort
INTERSPORT Rent in Bad Gastein: extensive supply of services at the ski rental
Rental ski equipment for fair prices - that is what makes the winter holiday in Bad Gastein and the neighbouring places Bad Hofgastein and Dorfgastein even more attractive! The ski rental at INTERSPORT Fleiß in Bad Gastein is the right choice for you especially when you are looking for the right equipment for the whole family:
free replacement possibilities within the chosen model category
ride seven days, pay only six days
free material service daily
adolescents until 14 years pay half
kids until 10 years rent for free *)
*) If both parents rent skis or snowboards, their kids until 10 years will receive the whole skiing equipment (skis, boots, sticks and helmet) free of charge for the term of lease.
Do you need up to date equipment for your holiday in Bad Gastein from the ski rental? You'll recieve all the information, excellent advice and many valuable tips at INTERSPORT Fleiß in Bad Gastein. Our committed staff looks forward to your visit!
INTERSPORT Rent shops in the federal states
INTERSPORT Rent shops in the regions
Cities with INTERSPORT Rent shops in the region